Fall in Love with Orchids, 2021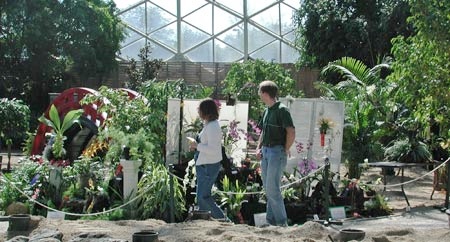 September 18 - September 19, 2021
Saturday, 9 am to 5 pm
Sunday, 9 am to 4 pm
Covid-19 guidelines for Milwaukee County includes face masks,
social distancing and adhering to one-way foot traffic patterns.
The Show Dome
Mitchell Park Horticultural Conservatory
524 S. Layton Blvd.
Milwaukee WI 53215
You are invited to enjoy our award-winning exhibits of flowering orchid plants and orchid-related exhibits. After you have enjoyed the exhibits, you will want to go to the sales area and purchase your favorite orchids, pots, books, and potting medium. There will be a variety of items to purchase at reasonable prices. A list of our vendors follows, with a link to their websites. If you see anything on their website that you absolutely must have, contact them ahead of the show and they will bring it along for you.
There will be Wisconsin Orchid Society Members at the show and in the sales area to help you with any questions you may have. Please stop by the Society table in the sales area and check out the free culture sheets from the American Orchid Society. We will also be offering free electronic delivery of our monthly newsletter for October thru December with a valid email address. Stop by the sales table to sign up!
---
Admission to the Show is free, but regular Domes admission applies – click
HERE for current admission information.
In addition to the Orchid Show, Milwaukee has wonderful places to see and things to do: for Tours and Attractions, visit the Greater Milwaukee Convention & Visitors Bureau, www.milwaukee.org.
The Show Dome
Mitchell Park Conservatory
524 S. Layton Blvd.
Milwaukee WI 53215
414-257-5611